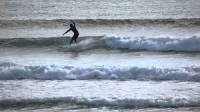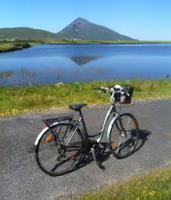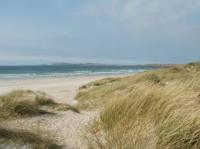 Outside the house there is a storage unit for fuel and beach gear and a shed for the storage of bicycles and items such as surfboards and kayaks. Wetsuits can also be hung here to dry overnight. There is also an outdoor washing line and a dedicated wetsuit washing tank.
The patio is equipped with chairs and loungers, dining table, a fire-pit and a barbeque (fuel and coals are not provided). The hammock in the garden will allow for relaxing in the sun, and the bench out front is perfect for enjoying the view.

There is parking for 3 or 4 cars. 
We have some bicycles and weather gear for use by guests: see Services.
For the comfort of future guests we do not allow pets in Hillside Cottage. However, if you have a pet which can remain outdoors, including at night, we have a kennel available for use, with a long-lead to keep your pet safe but with garden access.

Bedding and feeding trays are not provided. Cleanliness of the kennel and garden following a pet's stay are the responsibility of the guest. Pets are not allowed to enter the cottage or to roam freely on site.

No dangerous breeds are allowed.
We ask that you advise us in advance if you wish to bring your pet with you
.
Heating and hot water supply is by either the oil fired boiler or the solid fuel stove.
A quantity of solid fuel is provided to allow for a first night: extra fuel can be bought locally.
WiFi is available at 25GB. It is not suitable for large downloads.
Click here for further information on Availability of Equipment, Services and other Options
We ask that guests of Hillside Cottage do not smoke inside the cottage, in the doorways or in the storage shed.

An ash bucket is provided on the patio. Thank you.